Spring is finally here! And it's time to add the season's best trends to your wardrobe at unbeatable prices with the help of Goodwill of Orange County.
Goodwill Orange County is the go-to place for fashionable pieces when you want to recreate a look that caught your eye in a magazine or on the runway. Do you get excited when you find trendy pieces at an affordable price? We do too!
After reading about the major trends from all the big-name designers, we've compiled our three favorite trends for spring 2017.
Stripes and Ruffles: Stripes and ruffles are everywhere, and we're not mad about it! Pair the fun pattern with your favorite pair of denim shorts, or be bold and go with cool textures.
Fun Tip: You can always mix and match patterns, but the patterns should be similar (for example: stripes on stripes or polka dot on polka dot).
White Shirt-Dresses: Do you like sticking to the basics? Us too and this runway-inspired shirt-dress can be worn for so many occasions. Look for an oversized crisp, white button down — and that's all you need to knock this trend out of the park. Depending on your mood or occasion, dress it up with a pair of strappy sandals or go casual with your favorite sneakers. We found this perfect shirt-dress at the OC Goodwill Boutique in Lake Forest.
Fun Tip: If you aren't in the mood to wear a dress, tie the front of your button down shirt into a knot and pair it with your favorite Goodwill shorts, jeans or even a skirt.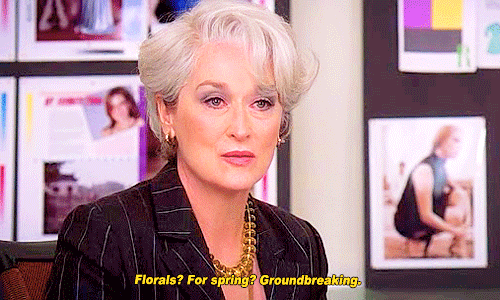 Florals: "Florals? For spring? Ground-breaking"- The Devil Wears Prada.
Ok, did anyone else love this movie as much as we do? No matter what the movie says, florals continue to be a spring must-have.
Mix it up, go for funky and pair a cool geometric floral skirt with a simple white tank or keep it simple with a comfortable floral maxi dress.
Fun Tip: Pair any of these pieces with your favorite athletic sneakers for an on-trend athleisure look.
—
Every Goodwill of Orange County store has its own unique pieces and one-of-a-kind finds. We hope we've inspired you to mix-and-match and go bold this spring!
Show us what you find and tag us for a chance to get featured on our Instagram and Facebook. Use the hashtag: #OCGoodwill.